Canadian tax receipting guidelines for fundraising events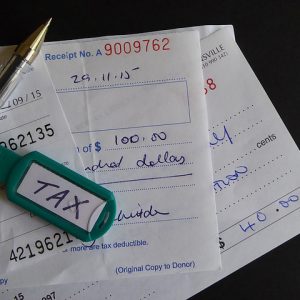 Canadian tax receipting for nonprofits and higher education institutions can be a challenge, with several key rules and guidelines to follow.
Take fundraising events. Your organization bundles together entertainment or other services and sells tickets to the public. Your attendees have an enjoyable outing and your cause earns revenues for important initiatives. But in addition to all the logistics of planning that event and selling tickets, there is also the issue of properly issuing tax receipts.
In Canada, these tax receipts are crucial to most donors and attendees, as they can recover a portion of their contribution as an income tax deduction. So how can your organization efficiently and accurately deliver tax receipts for your fundraising events? Have a look at some of the details you need to know:
The basics of Canadian tax receipting for fundraising events
Canadian guidelines essentially require your fundraising event tax receipt to contain of two parts: the advantage and the donation. The 'advantage' is the fair market value of products and services an attendee receives. The donation amount is the remaining portion of the ticket price which serves as a gift over and above these benefits.
While you will want to acknowledge the entire amount that your attendee has paid – for both their record keeping and yours – your tax receipt should clearly show the donation amount. This figure can be deducted from your donor's income at year end.
How to calculate 'advantages'
The general concept of 'advantages' is that it captures the value of all benefits an attendee receives with their ticket. For example, consider a fundraising gala. Included in the ticket price may be a meal, open bar service, valet parking and a live band. These can be valued based on their typical prices. You could use costs from the caterer for the meal and open bar, or perhaps it is more relevant to use typical restaurant fees. There is likely a standard cost in your city for valet parking. And if your live band would typically charge admission for their shows, that cost would be an 'advantage' as well.
Let's say that you determine the following market costs for your event's advantages:
Meal: $50
Open Bar: $25
Valet Parking: $25
Live Band: $10
Total Advantages: $110.
If admission to your event is $200, you would deduct the $110 in advantages to arrive at a $90 gift amount. This is the figure to indicate on your donation tax receipt.
Read More: Setting a timeline for your fundraising event ticket sales
Who gets a receipt
One common question about Canadian tax receipting for events is cases where the attendee is not the payee. This most commonly occurs with businesses purchasing tickets for their employees, but could also happen with families or friends.
Canadian regulations make it clear that the payee is the one who should receive a tax receipt in their name. For instance, a corporation registers four employees for a golf tournament. The corporation gets credited for the donation, even though their staff attends the event. Likewise, a mother buys five tickets for her and her kids to attend a fundraising concert. She should receive the tax receipt for the entire transaction.
Can volunteers receive a tax receipt?
Another frequently asked question about fundraising events is whether volunteers are eligible for a tax receipt for their services. This answer depends on the volunteers themselves. You can issue a tax receipt for an in-kind donation if they are performing work that they would normally be paid for. For example, if the live band at your event volunteers instead of receiving their normal $1,000 fee, they can receive a tax receipt for $1,000 in-kind. On the other hand, a group of friends that plays the show for fun and has never done a paid event before shouldn't receive a tax receipt.
It's important to remember that it is the volunteer's standard compensation that dictates this, not the role itself. Even if it is a high-level role, such as event management or finance, a receipt is only issued when the volunteer would otherwise be paid.
Causeview makes tax receipts simple
We know this can be a lot of detail to manage. That's why Causeview allows you to capture every detail about your events, sell tickets, and automate your tax receipts with full Canada Revenue Agency compliance. It's built by Canadians, with the needs of Canadian nonprofits and higher education institutions in mind.
To see how simple it is to setup event tax receipts, watch this short clip:
For more fundraising news, information, trends and analysis, sign-up for Causeview's free mailing list: